5/30/2015 - YOUR 2015 POST HUNT MEGA UPDATE!

Good afternoon, everyone!

This is the year. I can feel it. I know it. I have been training hard since the first Hunt in 1984, subscribing to Games magazine, doing sodokus daily...I got this. I have a great team assembled with me...it's time for revenge on my 0-26 record. Revengers, assemble! I will NOT be 0-27 at the end of tomorrow.

Yeah, right...

The passion everyone has for the Hunt defies description in most cases. You try to explain to your friends and co-workers who have never done it before about how much fun it is and just get blank stares back at you. You beg and plead to get them to go, because you know that once they go they'll return again and again, like you. It's almost like a contagion...but a good contagion (stay away, CDC!)...so keep spreading the word and get folks out tomorrow.

The fine folks at the Post have put all the pieces in place (NOT LITERALLY WITH THE PUZZLE SITES YET! THOSE ARE TOMORROW!), the opening puzzles are online as well as the clues, and the Sunday Post is available in the D.C. area, so there's no reason that you can't go get started right now.

The weather forecast is getting better in terms of a decreased rain chance (down to 20% from 60% predicted earlier this week), but it's still going to be hot and the sun will be out, so be prepared (see below). I also have one major update from the Post for everyone, too, so read my annual Mega Update below carefully so that you're in the know. (Boy does that sound cheesy...)

1. GET PREPARED!

GETTING THE HUNT EDITION OF THE SUNDAY MAGAZINE NOW
Go get your hard copy of the Hunt magazine now. You can also look online at the Post's website.

REMEMBER: THERE WILL BE LIMITED COPIES AVAILABLE AT THE HUNT!
Same as last year, there will be extremely limited copies of the Hunt magazine available tomorrow. Do NOT count on getting to the Hunt and being able to snag a free copy of the Hunt magazine. If you do, you MAY be one of the lucky ones, but you're more likely to be one of the UNLUCKY ones. Don't risk it. Just get your copy now. You can't win without it!

YOUR POST HUNT WEATHER UPDATE!
Sunny and beautiful! BRING YOUR SUNBLOCK!
Your updated (un)Official Post Hunt Weather Hour-by-Hour Forecast for Sunday, May 31st, 2015 is:
12:00pm - 85 degrees - 20% chance of rain
1:00pm - 87 degrees - 20% chance of rain
2:00pm - 89 degrees - 20% chance of rain
3:00pm - 89 degrees - 20% chance of rain
4:00pm - 88 degrees - 20% chance of rain

READ UP ON PRIOR HUNTS HERE AT THE ARCHIVES AND AT THE WAPO SITE, TOO!
There's LOTS of good information here at the Tropic/Herald/Post Hunt Archives, covering each and every Hunt that has ever been held for the last 30 years. See that list over there on the left? Click through the year links and see more details on what Dave, Tom and Gene put us through.

You can also explore the Washington Post's Post Hunt page to get their overviews of how their Hunts worked in the past, too.

HAVE AT LEAST ONE SMARTPHONE THAT HAS EMAIL AND TWITTER
No smartphone = no prize. You NEED to have at least one on your team because you will need to be able to use Twitter and also (if you're trying for the new prize) send email. For Twitter, you should follow @posthunt. Follow me, @tropichunt, to see my intrepid adventures as well as important updates. Make sure you have a Twitter account and understand how to use it as well as send email from your phone before you get to the Hunt tomorrow.

SUPER IMPORTANT UPDATE: The email address, as published in the Hunt magazine and online, has been changed! It was huntsolutions@mail.com but now is huntsolutions@washpost.com. Don't believe me? Look, they said so. MAKE SURE YOU USE THE CORRECT EMAIL ADDRESS ONCE YOU HAVE YOUR ANSWERS!

WHAT TO BRING
Here's our recommendations on what you should bring:
- You and your Hunt team
- Cell phone (WITH TWITTER AND EMAIL ACCESS!)!
- Notepad
- A clear, legal insanity defense (attending the Hunt is enough evidence of this)
- A clear voice to boo Dave, Tom and Gene with (How 'bout them Rangers, eh?) (I'm kidding; the Lightning are better...). - Pen and pencils and erasers
- A backpack or some type of bag to carry your stuff around in.
- A hat (sun, folks, sun!)
- SUNSCREEN! (SUN, FOLKS, SUN!)
- Money (for getting to/parking/eating/whatever you need to buy during the Hunt...!)

2. GETTING TO THE HUNT

The Hunt begins at noon at Freedom Plaza, on Pennsylvania Avenue NW near 14th Street NW in downtown Washington. While there IS parking available in the area, your best bet is likely taking the Metro. The Federal Triangle station is less than two blocks from Freedom Plaza and the Metro Center and McPherson Square stations are each nearby as well.

3. DURING THE HUNT

Try to solve all the main puzzles as quickly as you can so that you can try to win the prize for solving those! To be fair, the end game is much more difficult, so focus on the first part and worry about the end game later.

Don't forget to stick around afterwards to boo Dave, Tom and Gene as they explain how things worked after the Hunt ends (Remember that if a puzzle was especially tough or had problems, EVERYTHING IS TOM'S FAULT! Use megaphones to amplify your boos for him.).

TWEET, TWEET, TWEET!
The Post Hunt folks will be putting up important updates using @posthunt, so make sure you follow them! Follow me, too, but know that I will not be giving answers or hints out as I solve puzzles. Don't forget to use the #posthunt hashtag for your own tweets!

And please be careful with WHAT you tweet, especially photos or clue answers. Remember, your pic of a puzzle could save a team the trouble of having to go to a puzzle site...so consider your tweets carefully!

THE ANNUAL HUNT MEET'N'GREET!
Want to find me at the Hunt? My red hair makes me an easy target to find, but I'll also be wearing a red shirt (a team of red shirts, what can possibly go wrong?). I'll also have a backpack with me. Feel free to say 'hi' if you see me!

4. CHECK BACK HERE DURING THE WEEK NEXT WEEK

I'm flying home a few hours after the Hunt ends, and updates will be posted next week, so keep checking back for photos, explanations and more! Including my annual review!

5. MISCELLANEOUS TIPS

ANNUAL FROM-TOWNER TIPS
- Put money on Seam Memon. Seriously. You have a MUCH BETTER chance of winning SOMETHING tomorrow if you put money on him to either show or win. Seriously. I got a grand riding on him alrady. (You hear that, Sean? YOU BETTER WIN!)
- It's going to be 101 degrees at 7 am So forget clothing tomorrow! And deodorant. In that heat, it won't matter. Just let it all hang out and go about your business normally. Since everyone will be naked, it won't feel awkward.
- You also need a copy of the Miami Herald at tomorrow's Hunt. Dave is going to have a companion column with clues in it, so make sure you have a copy. Due to the format of the column, each section of the paper will only have 25 random words from his column that you'll need to rearrange.
- Okay, look, enough with the games. I'm a huge Star Wars fan, and I found this excellent video of R2D2 which fits the Hunt crowd well. Seriously.
- I tried this today, looking at the clues. The clues were blurry and didn't make sense until I drank a few beers. I suggest you do that tomorrow. Everyone's beer needs will vary, so don't overdo it. (Please drink responsibly!)
- In addition to the Hunt email address changing, the final clue time was extended to give more chances for people to solve the main Hunt puzzles. The final clue will be at 4:30pm.
- Remember, you can't compete against Sean, so why bother showing up when you're just going to lose?
(As usual, my teammates are forbidden from following these tips.)

That's all for now...keep checking back for more updates. And I'll see you tomorrow at the Hunt!
---
5/26/2015 - V DAYS UNTIL THE HUNT! POST HUNT CHAT TIDBITS!

Howdy, folks!

Happy Tuesday! Hope you had a great Memorial Day weekend. Little can top a long weekend except...having a Hunt the next weekend to follow it up! Woohoo!

We're just FIVE days away from the 2015 Post Hunt. It's been a little quiet here due to technical difficulties with my web hosting service (which hopefully are resolved), so let's get a few things updated, shall we?

THIS YEAR'S PRE-POST HUNT CHAT WAS TODAY!
Gene, Tom and Dave's chat today had many interesting revelations, both about the Hunt and not about the Hunt. Let's do the quick bullet-point recap:

Only First and Second place teams this year, winning $2,000 and $500 respectively. As the old saying goes, "There is no third place."
Solve the first five puzzles as fast as you can! You can win $500 just for doing that alone. AND you can still win first or second place prizes if you can solve the overall Hunt!
You will need your cell phone, need access to Twitter, etc. You'll need to follow @posthunt. It doesn't hurt to follow me, too.
YOUR (UN)OFFICIAL POST HUNT WEATHER FORECAST!
Your updated (un)Official Post Hunt Weather Forecast for Sunday, May 31st, 2015 is:
High of 85 with a 60% chance of rain in the afternoon!

Sounds like weather PERFECT for those experienced Miami teams!

THERE WILL BE NO HUNT T-SHIRT THIS YEAR...
Sorry :(

...BUT GET TO THE MAIN STAGE BY 11:30 AM SUNDAY!
One of the wonderful Post Hunt sponsors, the Arena Stage will be giving away Post Hunt tote bags! Pick one up at the Main Stage, while supplies last. And be nice, people...there's no need to push and shove.
(Oh, sorry, thought I was talking to Floridians...)

More tomorrow! Keep checking back! :)
---
6/8/2014 - THE 2014 POST HUNT REVIEW!

Hello, everyone!

It's been one week since the 2014 Post Hunt. I've been busy pondering this Hunt quite a bit. On one hand, it was very fun, and I believe that most people enjoyed it. On the other hand, there were some rather significant issues which directly impacted the ability for some people to execute the Hunt properly and have a chance at winning. While I've been working on photos and my Hunt wrapup, I've also been doing some 'scientific' research into things to better understand the challenges that some of you had. So let's get this review started...





The 2014 Post Hunt had something few Hunts have had: Perfect weather. With a temperature hovering around 76 degrees and almost no clouds in the sky, there was little to interrupt Hunt fanatics on their quest for glory: to step onto the Hunt stage as a winner.

But before that could happen, you had to dig into the crazy minds of Tom, Gene and Dave and see want insane obstacles they were going to put in your way. Was this year going to be a repeat with Sean Memon winning again in a solo effort? Would this Hunt need extra clues at the end to help people along? Would the Secret Service pay a surprise visit to Hunt HQ and tell them that they needed to hold it elsewhere because it disturbed the President? Would this year's crowd, one of the largest ever, spilling out of Freedom Plaza, figure things out quickly? Let's see...

GIVING THANKS...
Few appreciate how much hard work goes into the creating and planning of a Hunt. It's not just the puzzles that the three guys create, it's also finding sponsors to help fund the Hunt, volunteers to help setup, maintain and sometimes be part of puzzles, getting permits from various agencies and more. It's really challenging, time consuming work and hope that all goes right.

Let's take a moment to thank the fine folks at the Washington Post who put their time and hard work into this extremely fun day, as well as all of the EXCELLENT Hunt volunteers. Special thanks to...(in no particular order)
DAVE
GENE
JILL
JULIE
KATHRYN
TOM
ALL THE HUNT VOLUNTEERS (they know who they are!)
AS WELL AS THE HUNT SPONSORS THANK YOU, THANK YOU, THANK YOU!

CONGRATULATIONS TO THE WINNERS
Yeah, we're starting to see a dynasty here.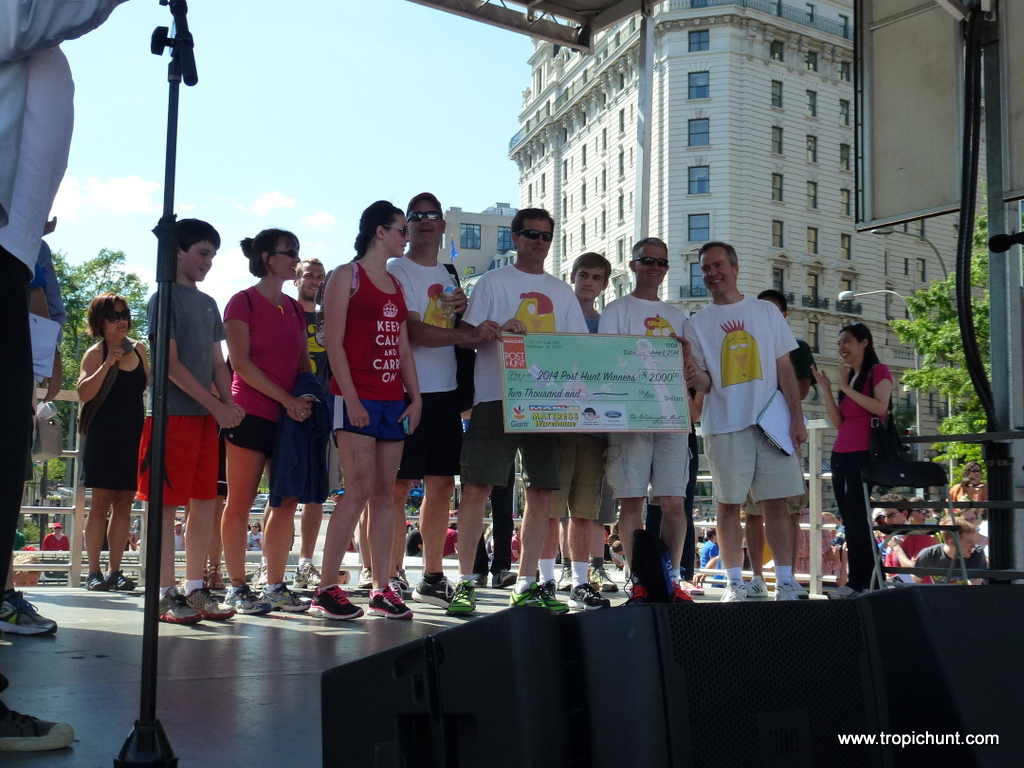 THE REVIEW
In my continuing tradition, I offer the following review/thoughts on this year's Hunt:

The Location:
The Post Hunt has found it's home. It's Freedom Plaza. Picturesque, lots of available puzzle locations in the area without requiring anyone to walk miles and miles. You got yourself a keeper, folks.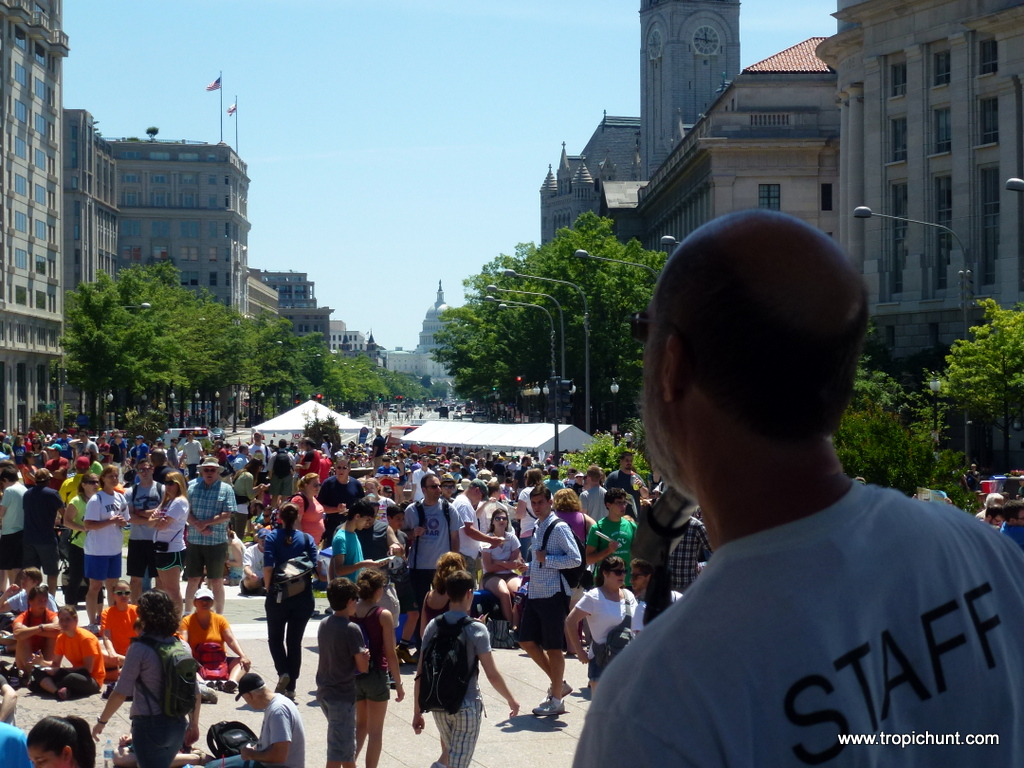 Overall Hunt difficulty:
On a scale of 1 to 10, with 10 being hardest (2011's Herald Hunt), and 1 being easiest (2004's Herald Hunt), this Hunt seemed to present less of a challenge and ranks an 2 out of 10. The main puzzles were fairly easy (lots of folks got 'em). The end game was tricky but not overly so. After all, the first place team had solved it around 2:15...45 minutes before the final clue! Based on what I heard, lots of folks figured out the endgame, but not in time to place. In my opinion, this is the type of Hunt that inspires people more than ever to come back for the next one...and the next one...

...BUT...

There were problems. In my opinion, some significant problems, which impacted people's ability to win. It's not unexpected that there may be a hiccup or two through the course of any Hunt, but this year's added up to the point that they took out veteran teams and others alike. I'll go into them after my puzzle-by-puzzle analysis.

The puzzle-by-puzzle analysis:
YMCA Puzzle: The most 'fun' puzzle of the Hunt and tied for easiest. How could one not enjoy the silly antics of the guys on stage and even join along with them? I almost could have watched the guys for the entire Hunt and been entertained.

The Remote Control: Probably the second tougest of the Hunt, but even then not overly challenging. I feel for the volunteers who had to stay at this location not just because of hearing the same loop of TV shows for three hours, but also because of the handouts problem.

Follow Me: Probably the toughest puzzle of the Hunt's main puzzles. When you figured out what you had to do, the follow-up items that you had to solve were done in short order.

Jigsaw: The most frustrating puzzle of the Hunt (see below), but tied for easiest. Once you were able to see all the pieces, the answer readily called out to you.

States: Second easiest of the Hunt, nice shady spot. The volunteers had the easiest time at this location.

Endgame: This one was definitely one of the easiest to date. My team was able to determine where to be for this...on Saturday. We had noticed the elements that were involved in reviewing the Hunt magazine the day before the Hunt, so while the initial clues pointed us to someplace else, it was near where we needed to be and we adjusted fairly quickly. As noted, the first place team solved this 45 minutes ahead of the final clue. A lots of others did, too. Congrats, D.C., you got your 'gimme' Hunt. Don't expect it to be so easy next year.

Now for my for my critique of the problems. All five main puzzles had problems of some sort, as did the endgame. The endgame problem was the most significant and prevented people from winning. Let's go puzzle by puzzle and examine what the problems were:

YMCA Puzzle: A couple problems here: First, where were the handouts at the beginning of the Hunt? Even for their last performance I had problems finding the Hunt volunteers with the handouts. I'm not sure if it was the crowd size this year, but maybe some signs that they could have held up would have helped. The second problem is that the puzzle location did not match up to the coordinates from the opening glue. The Hunt stage was at L12, but the initial clue put the puzzle location in the other park at I12. THERE WAS NO PUZZLE AT I12. My team did not have this problem, but at least one other veteran Hunt team I know had this throw them off quite a bit. I suspect it was a typo in the opening questions, but it should have been rectified before the opening clue was given to the crowd. (Yes, I'm aware there was a tweet to the effect there was no puzzle at I12, but that was after the Hunt started...)

The Remote Control: They ran out of handouts. Within 30 minutes of the Hunt starting. Not good. Side story about Hunt dedication: Hunt staff went to a nearby office supply store and printed up 2,000 more copies, with Hunt volunteers taking 200 at a time back to the puzzle location.

Follow Me: People retweeted this puzzle. Which kind of defeats the purpose of having people go to the puzzle location. TWEET RESPONSIBLY, FOLKS! This is a contest, remember? You're competing against others who want to beat you...

Jigsaw: Way, way, way too small a location for the puzzle pieces. The crowd wasn't moving, volunteers were trying to use a small black string the size of a shoelace to make a perimeter ("24" fans, DRINK!) so that Hunters would have a chance to see this puzzle. I have a feeling they meant to put the pieces inside the fence by McPherson's statue. That would have worked a lot better. The way the puzzle was oriented when I was there prevented people from viewing the puzzle and even walking around it. Easy puzzle made very frustrating.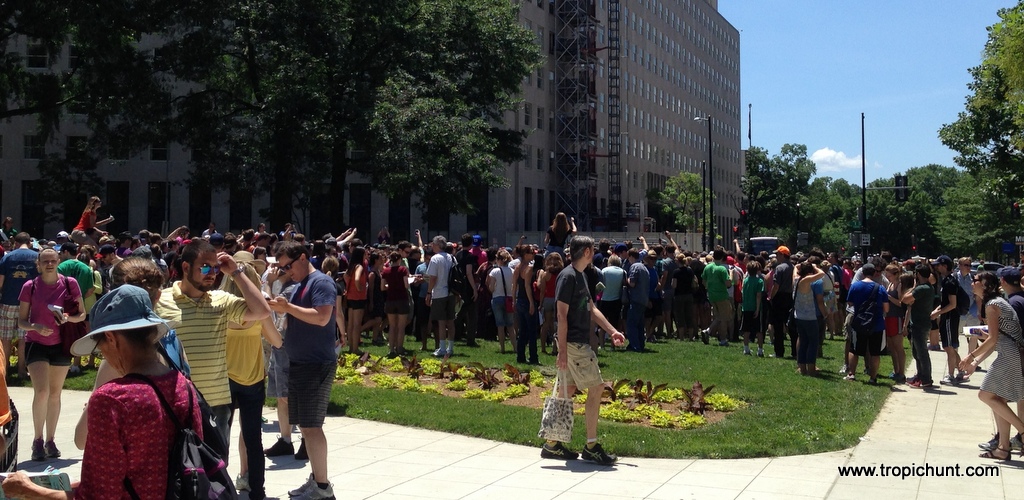 States: Was it really necessary to put out the 'EZ' sign? I think this puzzle could have been more challenging, but not impossible, without it.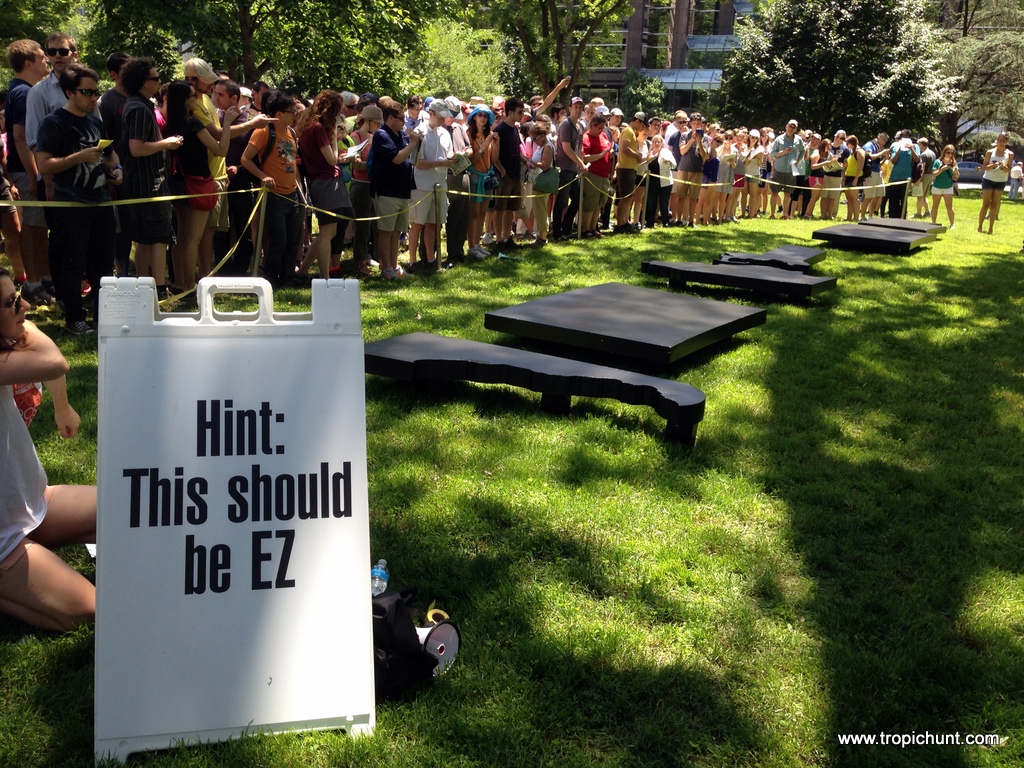 And now, my biggest gripe...

"With great technology comes great responsibility"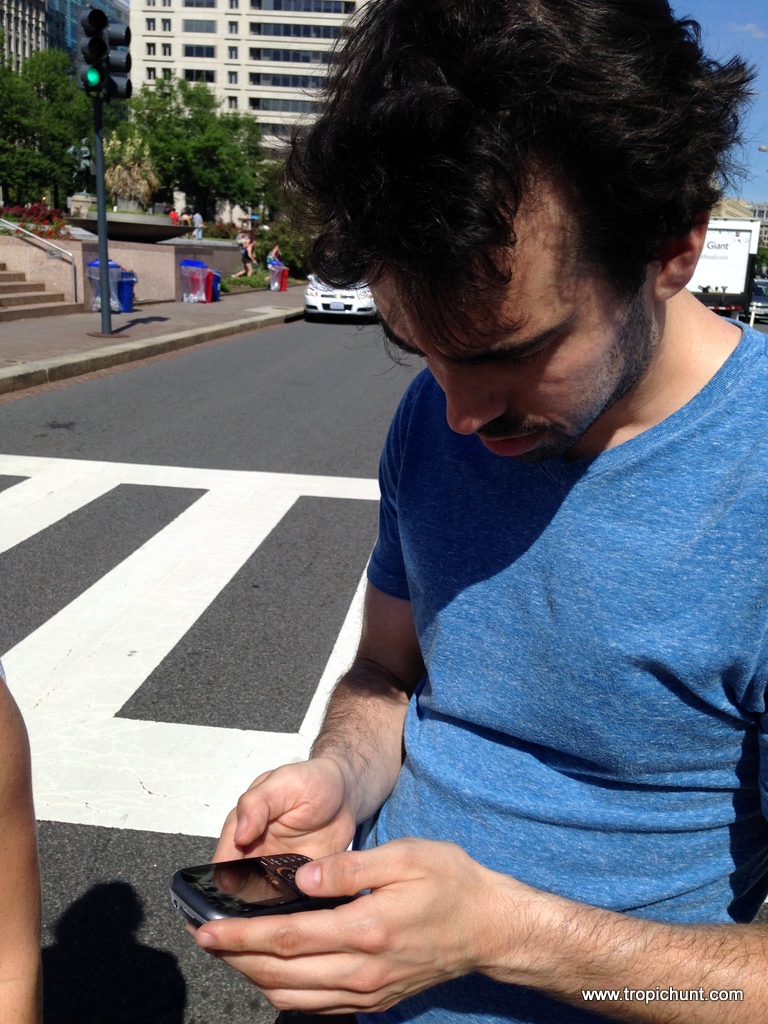 Endgame: DO NOT USE TEXT MESSAGING FOR THE END GAME! I can not emphasize this enough. Not even if it's just to get an automated reply, like what was used in previous Post Hunts. This doomed lots of teams. I have seen evidence from teams that they sent their photos well before 3:20pm, which is when Gene announced the third place team sent theirs. There are too many problems with text messaging. There's differences between cell phones, cell providers/networks, image sizes being sent, etc. I've encountered numerous times outside the Hunt where text messages are sent from my phone but don't show up until 20+ minutes later. How's that fair to all teams who are trying to win?

SUGGESTION FOR FUTURE HUNTS: You required Twitter? You should have had the winning team send a tweet instead. The technology overhead is much smaller and fairer to all teams since Twitter was a requirement this year. It would have made much more sense to have them tweet another, special Twitter account that was used only in the endgame.

Again, credit to all of the winning teams...you did a great job solving everything. I just think that the result would have been different had Twitter been used intead of text messaging.

Small side note: This year, there was no statement made in the Hunt magazine nor from Dave, Tom or Gene at any point that rushing the stage to win wasn't required. They have clearly stated this for years...so my team was prepared to rush the stage if needed. We didn't have to. We lost in our own style.

My recommendations for the next Hunt are:
Other than working on the challenges noted above, none, really. There were Hunt t-shirts, food trucks, free water, great sponsors, a HUGE crowd and beautiful weather. You really can't make it much better than that.

WRAPPING THE REVIEW UP
This year's Post Hunt seemed to be the largest and most successful Hunt (in terms of crowd in the endgame) ever. Having people be able to solve the main puzzles is crucial to keeping their interest (those "I only got one or two puzzles this year" excuses were almost nullified). The end game puzzle had more people participating it in, and I think it was more competitive than it's ever been. All this despite the NSA tapping everyone's cell phones and likely being able to win it all at any point they wanted...

So go review my 2014 Post Hunt wrapup, and let me know what you thought of this year's Hunt.

Keep Hunting!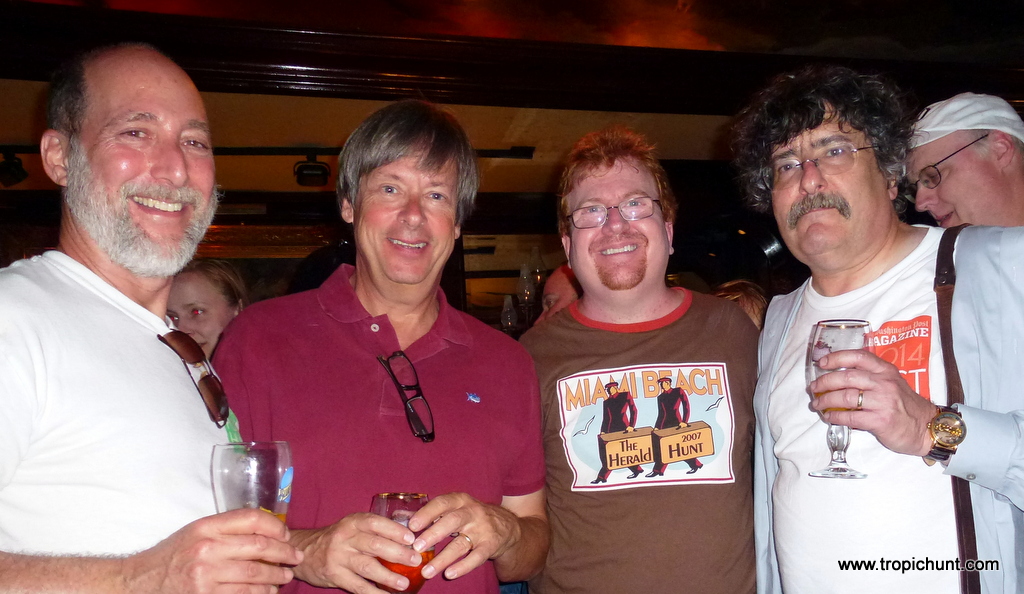 ---
6/1/2014 - TIME FOR ANOTHER ROUND OF HUNTING!

Good morning, everyone!

What a spectactular day we have ahead of us! A sunny day, high of 76, no chance of rain...oh, and also this silly Post Hunt thing going on.

Right now, you should be in your pre-Hunt ritual, waking up, showering, eating breakfast, etc. and then making your way down to Freedom Plaza like a crazyed pack of non-dead zombies. "Braaaains....we need braaaaains...."*

* Eating brains will not increase your odds of winning. It appears to be illegal, too.

So get your Hunt magazine before you head down there, get on Twitter (following @posthunt, as well as me, you know, just for fun) and be ready to try to redefine insanity at noon. (I've been trying for 30 years...)

Have fun today, folks!
---